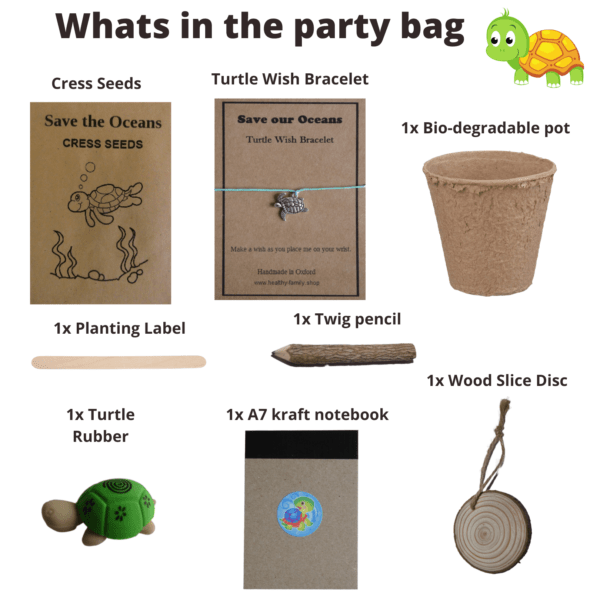 Description
You will receive:
A bio- degradable Kraft Paper Bag measuring 15x 8x 20cm

A packet of cress seeds (over 100 tiny seeds per pack)

A cute mini- turtle rubber

A bio-degradable plant pot

A paper note pad- 30 pages

A wooden twig pencil

A wooden plant tag

A natural wood slices disc

A Turtle Wish Bracelet. 

The bracelet includes a Turtle charm and is made from quality coloured 1mm waxed hemp cord. The bracelet is mounted on recycled card. The idea behind a wish bracelet is that you make a wish as you place it on your wrist. In time, the cord wears out and your wish comes true! This bracelet is meant to be tied on and has no closure. Handmade in Oxford.
​Save The Oceans Eco Birthday Party Bag will be delivered unsealed to allow additional items such as cake, sweets etc to be added if wanted.
All plant pots will not be put into the party bags due to avoid damage.
This is a great little thank you present or general present for any child who is into nature and the environment.
Save The Oceans Eco Birthday Party Bag are perfect party bags that don't cost the earth.
Healthy Family's Party Bags are inspired & created to offer an Eco-friendly alternatives to the traditional party bag. Easy To Use & Grow. No gardening experience necessary, full instructions included!
Healthy Family's Eco Party Bag are based on Nature with items being Eco-friendly or Re-usable & being kind to our Environment.
Healthy Family's Party Bags are based on Nature with items where possible have been sourced which are naturally derived, recycled materials or can compostable rather than landfill.
PRODUCT SAFETY!!! Contains small seeds – not suitable for children under 3 years. To be used under direct supervision of an adult. Seeds are not to be consumed.