https://www.healthyfamilyshop.com/product/white-reusable-bamboo-cotton-makeup-remover-pads-eco-friendly-facial-rounds-zero-waste-cleansing-wipes/If you consider reducing your impact on the environment and would like to start using reusable makeup remover pads then you probably wonder how to wash and care for them properly and what you can do to make them last longer.
So how do I wash and care for my reusable makeup remover pads? Place your pads in a mesh laundry bag and wash them in the washing machine with your light colored clothes on a warm wash ( up to 40°C, 104°F) with a gentle detergent and leave the pads to dry naturally. Do not use fabric softener or bleach when washing your pads. 
Why can't I use fabric softener, stain remover or bleach when I wash my reusable pads? 
It is not a good idea to use fabric softener, stain remover or bleach when washing your makeup pads made from bamboo. As soon as fabric softener is introduced in the washing machine it can build up on the pads and can weaken the fabric and dramatically decrease its absorbency.  Washing your pads without fabric softener will keep the rounds at their maximum absorbency and the bamboo fabric will get softer and more absorbent with each wash.
Many fabric softeners are based on petroleum and are full of animal fat that you do not want to put on your face.  If you prefer using fabric softener for your clothes then you are much better off making your own by simply mixing white vinegar with essential oil of your preference.  This mixture will soften your laundry and give it a pleasant aroma without any hint of vinegar.
Do not use bleach or stain remover as they are very harsh chemicals that can damage the bamboo fabric and completely ruin your reusable rounds.  
What can I do to make the pads last longer?
You can give your pads a quick wash right after using them with warm water and a bar of soap.  By doing so you can remove most of your makeup from the pads instantly and can reduce the amount of wear in the fabric by not using the washing machine. Most of the time I don't even use the washing machine to clean my pads, just giving them a quick rinse in warm soapy water works just fine.
To keep your pads in good condition for a longer period of time avoid drying them in the tumble drier, especially at high temperatures, as this can cause an excessive amount of wear and shrinkage in the fabric.   Bamboo fabric (rayon from bamboo) should be air dried ideally on the clothesline if one is available.  If you air dry your pads naturally they will keep their shape better, but if you decide to use the drier they will still be effective and usable. 
Do not boil the pads made of bamboo (rayon from bamboo) in water as it will cause the fabric to break down and it will severely shorten its lifespan. 
It is important to wash your pads in a durable mesh laundry bag to prevent them from going missing in the wash and to protect them from hooks, zippers and rough fabrics that can reduce the life of your reusable face rounds.
Should I wash my reusable pads before using them for the first time?
Washing your pads before using them can be a good idea – just like with new sheets and towels they will feel softer, and will absorb better on the face.
The pads made from bamboo (rayon from bamboo) reach their maximum absorbency after about 3-4 washes.  It's absolutely fine if you decide to use them right out of the packet though.
Storing your clean and used pads
Keep the used pads in a mesh laundry bag of your choice until you are at the end of your eco-friendly stash and it's time to wash them. 
It's a good idea to store your clean pads in a pouch of some sort to minimise dust and moisture collection in the fabric.  La Nature's bundle comes with a soft travel pouch which is perfect for storing your clean reusable pads!
Disposal
Reusable makeup remover pads can last a very long time but if you feel that it's time for a replacement you can recycle the old ones at your nearest clothing and textile recycling facility.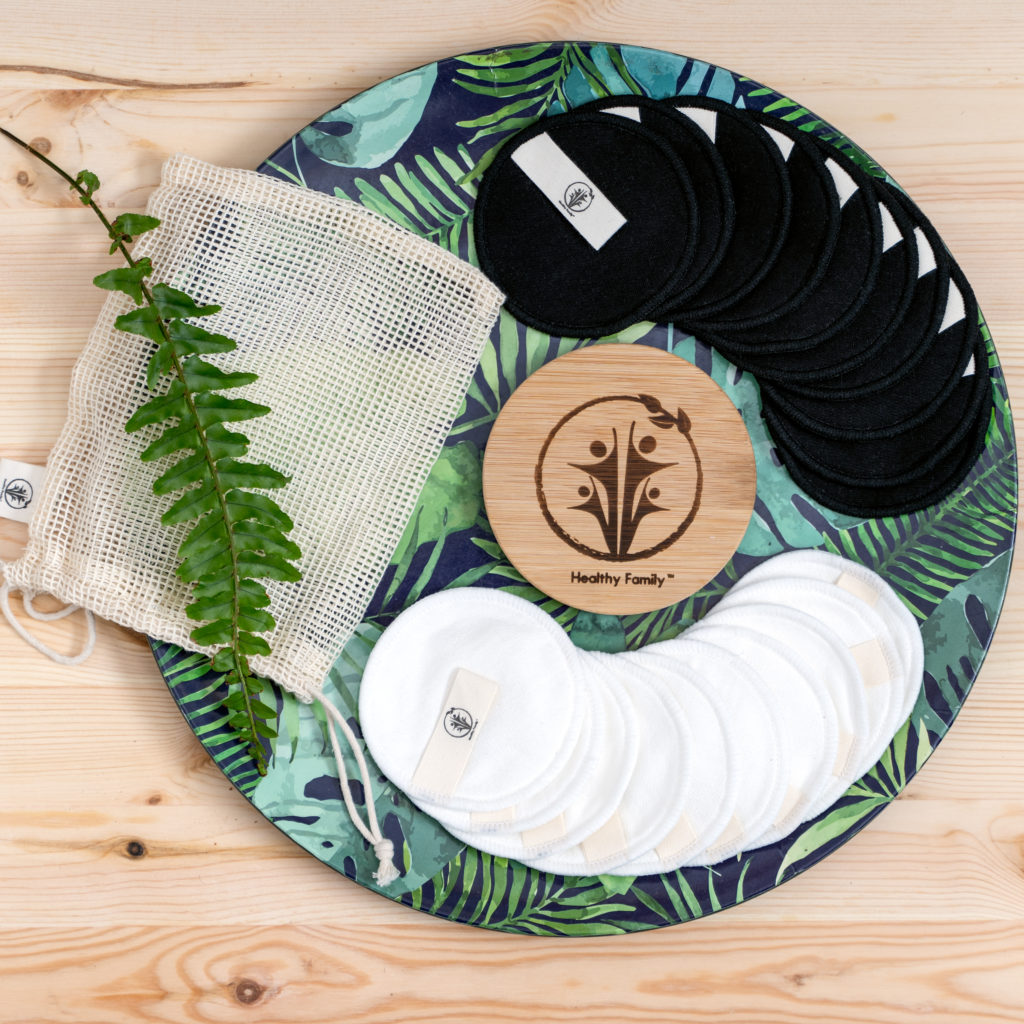 Extra tips
Use a little baking soda (not baking powder) to attack old stains you didn't wash previously.
Add a little white vinegar to the water of your last rinse to help keep the fabric soft. This is especially useful if you live in an area with hard water.
Add a few drops of essential oil to the water, i.e. Rose, Lavender or Lemongrass, to give your pads a lovely scent.